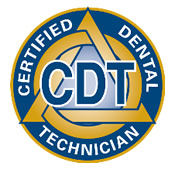 A Designation That Lasts The CDT designation is a great achievement and demonstrates a significant mastery of the knowledge and applied skills needed in dental technology. Individuals achieving this designation have demonstrated a competency not all of their peers will achieve. The CDT designation illustrates a technician's commitment to the field of dental technology and demonstrates their knowledge in all seven specialty areas. The pride of earning a CDT is personally rewarding and the CDT designation places the certificant among a group of individuals who are at the top of the dental technology profession. This group forms a basis for networking, professional recognition, friendships and life-long learning.
Resources for Current CDTs. Login to MyNBC
Why Become a Certified Dental Technician ?
Although certification is costly and requires a sustained commitment, it has many benefits for dental technicians, laboratory owners and the dental customer. CDTs and RGs have not only demonstrated competency, but they have shown determination and commitment in completing the certification process. The attained skill and knowledge of the CDT is highly desirable to laboratories. Having this certification provides the dental technician with the advantage of higher salaries, advancement and job satisfaction.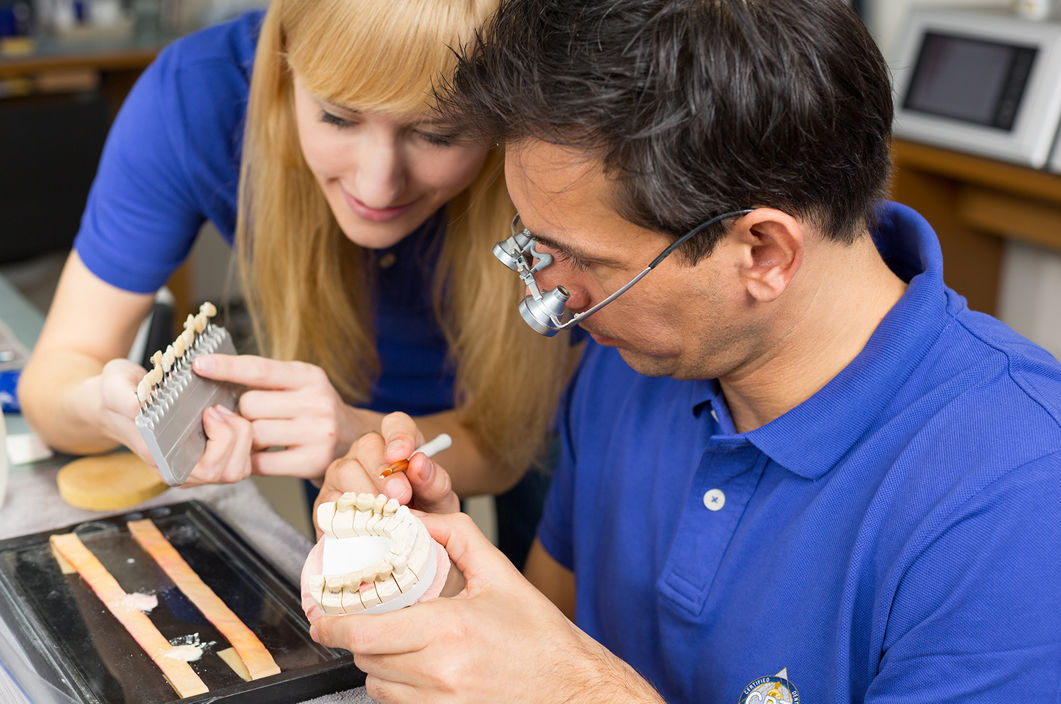 This value is affirmed by statistics that show almost two-thirds of CDTs have held their certificate more than 10 years. Today's CDTs are dedicated individuals who believe strongly in improving themselves and their profession.
The extensive knowledge gained by the CDT and RG during the required continuing education process assures the laboratory owner, dental customer and the public that this individual is a true student of the profession with a solid commitment to remain at the cutting edge of his or her field.
How to Become a Certified Dental Technician
All dental technicians who possess the required education and/or experience, have a working knowledge of the English language, and have not been found guilty of practicing dentistry illegally are eligible to become a Certified Dental Technician.
The Examinations
A candidate for certification must successfully complete three examinations, taken in any order, within a four-year period: a written Comprehensive Exam, a written Specialty Exam, and a hands-on Practical Exam in the same specialty.
Recognized Graduates (RGs) have four years to substitute the RG examination for the comprehensive examination and pass the other exams (the written specialty and the practical exam) to become a CDT.
After four years, the RG would need to take and pass all three examinations to achieve the CDT status.
The seven specialties to choose from are:
Complete Dentures
Partial Dentures
Crown and Bridge
Ceramics
Orthodontics
Implants
Digital Workflow - Coming Soon!
The comprehensive examination has 160 multiple-choice questions and the specialty written examinations have 80 multiple-choice questions. The goal of the CDT examinations is to measure the mastery of knowledge and applied skills that are representative of the successful, professional practice of dental technology.
As part of NBC's ongoing efforts to ensure that the questions included in its written examinations are contributing to the reliability of the examinations, NBC includes an additional ten field test questions embedded on each examination form. These ten questions are not graded, but instead are used to gather statistical data to allow NBC to determine if the field test questions may be used on future examinations. Using field test questions is a common practice in the certification and licensure testing industry.
Candidates for CDT examinations must submit a completed application and payment for a specific examination. If approved, the candidate will be sent a confirmation.
Visit the CDT Application & Exam Process Page
Examination Preparation
Several tools are available through the National Association of Dental Laboratories and are shown below. Candidates should refer to the CDT Handbook and Application for a complete list of references.
United States Air Force Manuals - The Air Force Manuals are an excellent source of preparatory material for the CDT examinations. These include Dental Laboratory Technology, Basic Sciences, Removable Prosthodontics, and Orthodontics (2005), Air Force Pamphlet 47-103, Volume One and Dental Laboratory Technology, Fixed and Special Prosthodontics (2005), Air Force Pamphlet 47-103, Volume Two. Electronic copies of these manuals are available for purchase through the National Association of Dental Laboratories (NADL) online by CLICKING HERE.
Examination Preparation Guide - The NADL has specifically designed this guide to help navigate the course to success. The guide contains a breakdown of RG and CDT examination content and process, recommended resource materials for exam study, key words from the Glossary of Prosthodontic Terms and sample exam questions.
The sample questions will help to familiarize the candidate with the format and types of questions included in each of the actual examinations. This guide also includes study techniques and a Timeline for Success Study Plan for candidates working full time, which includes specific topics, references and page numbers to study. The Examination Preparation Guide is available electronically through the National Association of Dental Laboratories (NADL) online by CLICKING HERE.
CDT Practical Exam Work Visual Reference Guide - In January 2017, the NADL released updated versions of the CDT Practical Exam Work Visual Reference Guides, which were created to provide examination candidates with a visual representation of the industry standard in his/her chosen specialty area. There is a visual guide available for each specialty area and the visual guides are available on CD or by download for your convenience. Beautiful photographs detail the exam specifications. These can be purchased at the NADL online store by CLICKING HERE.
NADL Online Study System - NADL has developed an online study system to help dental technology professionals study for the written examinations. This online study system is designed to quiz users on aspects of dental laboratory technology including the six specialties: complete dentures, partial dentures, crown and bridge, ceramics, orthodontics and implants. This study system contains hundreds of multiple choice questions that are similar to those on the examinations. It allows you to select your area(s) of study, so you can assess your progress and improvement. You can access this interactive Online Study System at www.nadl.org under the "Certification" link.
CDT Study Clubs
Do You Know a Study Club Not Listed Here? Tell Us.
Southwest Dental Technicians Guild
Glenn Thom, CDT
303 W. Paseo de Cristobal
San Clemente, CA 92672
949-330-9614
glenn.thom@straumann.com
Contact Group
Dental Technician Alliance Study Group
Ted Walker, CDT
1346 8TH Ste NE #200
Auburn, WA 98002
253-939-3540
walkert@integrity.com
Contact Group
Greater New York CDT Study Group
Anthony Sena, CDT
300 Jay Street
Brooklyn, NY 11201
718-260-5137
asema@citytech.cuny.edu
Contact Group
IDLA Study Club
Paul Vena
1504 Wall Street
Naperville, IL 60563
(630) 369-4600
http://www.idla.org/
Contact Group
Tennyson Study Club
Kurt Tennyson, CDT
4615 E. Industrial Street, Suite 1-I
Simi Valley, CA 93063
http://www.dentaltechs.org/
Contact Group
Metroplex Dental Study Group
Connie Powell, CDT
304 Carissa Court
Mesquite, TX 75150
214-668-8404
connie@stopsmoking4life.info
MetroplexDentalStudyGroup.com
Contact Group
The Seacoast Esthetic Dentistry Association
Lisa Schulman, DDS
P.O. Box 174 Portsmouth, NH 03801 seda@dentalesthetics.org
Contact Group
Sierra Society for Dental Excellence
Cheryl Mitchell
3575 Grant Drive, Suite 10
Reno, NV 89509
(775) 827-3302
Dental Technician Society of Milwaukee
Andrea Cook, CDT
N48 W14170 Hampton Ave.
Menomonee Falls, WI 53051
(262) 373-1750
accontour@msn.com
Contact Group
Great River Study Club
Barb Gladder
3950 Veterans Drive, #100
St. Cloud, MN 56303
(320) 252-3611
studyclub@bentrasotaoms.com
Contact Group